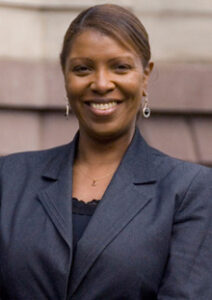 We had many great progressive victories in NYC's September 10th Democratic Primary. It shows that the public wants to vote for politicians who support the 99% and not candidates backed by corporate dollars. Up next is a Runoff Election for Public Advocate. Yup, it's already time to vote again.
Neither Letitia James (our endorsed candidate) nor Dan Squadron won 40% of vote which is required to win a city-wide race. So now engaged New Yorkers must head back to the polls on October 1st. This election will have very low turnout — it's a single down-ballot race but it is also a very important election and we urge you to make the time to participate in it.
The Public Advocate is NYC's number two city-wide elected official. She or he is supposed to be an ombudsman to Mayoral power and advocate on behalf of New Yorkers. When my former landlord tried to raise my rent more then legally allowed I reached out to our current Public Advocate, Bill de Blasio (now the Democratic candidate for Mayor) for assistance and his office came through for me. They helped me get the information I needed to push back and hold my landlord accountable to the law. The inquiry they filed resulted in my receiving a check for back rent that we'd paid. That's just one example of the sort of help the Public Advocate's office can offer.
So I urge you to return to the polls on October 1st and make sure that our next Public Advocate is the kind of person who will step up on your behalf. We believe City Councilwoman Letitia James is the woman for the job.
For more on Letitia James visit her website.
If you are unable to vote on October 1st you can vote in advance by visiting your borough's Board of Election's office. You can find their address here. I had to vote early and it took me about an hour to be processed and vote. It felt great to do it!
Here are the office hours for early voting.