UPDATE 4.29.10:We're neck and neck for first place. Every vote counts! Please take 5 minutes and help the climate movement get more attention! Today is the last day to vote!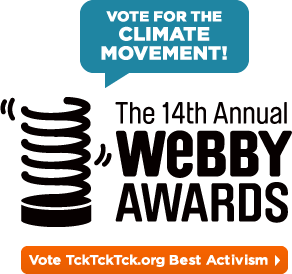 We recently received the fantastic news that one of our recent projects, TckTckTck.org, is nominated for Best Activism website in the Webby Awards. And we need your help to win!
Over the past year tcktcktck.org has been the hub of one of the biggest, most diverse movements in history; bringing together 15 million people in a call for a fair, ambitious and binding climate agreement at the COP15 conference in Copenhagen last December. While our leaders did not give the world the deal we wanted, the climate movement is only beginning.
A Webby Award is like an Internet Oscar. There is no bigger, higher profile, or more global award for web excellence. Winning would help raise the profile of the TckTckTck campaign, the climate movement and the incredible relevance of this cause worldwide.
We hope you will take a few minutes to vote for us. With every vote, you're bringing us closer and helping to raise the global profile of the climate movement!
If you have never voted for the Webby Awards before, it is a very simple process.
How to vote:
1. Go to webby.aol.com and register to vote.
2. The Webby Awards will email you an activation code. Check your email and click the code to confirm your account.
3. Go to http://webby.aol.com/category_groups/society/categories/activism and vote for TckTckTck.org.
4. Tell your friends, family, associates, colleagues, Twitter followers and Facebook friends you voted for the Climate Movement!
The deadline to vote is April 29th, so don't wait to cast yours.
Thanks in advance for your support. Let's help the climate win a Webby Award!
You can read more about the technical power behind TckTckTck in Aaron Winborn's blog post about the project, which also appeared in Drupal.org's home page showcase last Fall.
Advomatic is just one of the many companies behind the success of TckTckTck.org. Communicopia did the strategy and project management. Biro Creative's team produced the beautiful designs and flash animations. Capulet Communications developed and executed the social media strategy, much of which is to credit for the over 1 million pledges in the first week. Nitobi developed the mobile smartphone application. Last but not least, Hoggan and Associates is behind the blogging strategy. Advomatic succeeds both on its own and working with international teams and experts like we did on TckTckTck.