Labor
We're passionate about progressive values, so labor organizations are central to our work, and we're deeply experienced with the unique opportunities and challenges in union technology projects. We build back ends that serve even your least technical administrators and organizers and content management systems that allow your local affiliates to easily create and maintain their own sites, with oversight from the national organization. We've also built tools to help unions gather information and feedback from their members. Advomatic specializes in security and accessibility, so you can ensure your site is safe and accessible for all your members, administrators, and other visitors. Our unmatched technical expertise means your state-of-the-art product will serve you well for years to come, and we build all our work to be extensible, so your project can grow with you. Take a closer look at our work for labor organizations: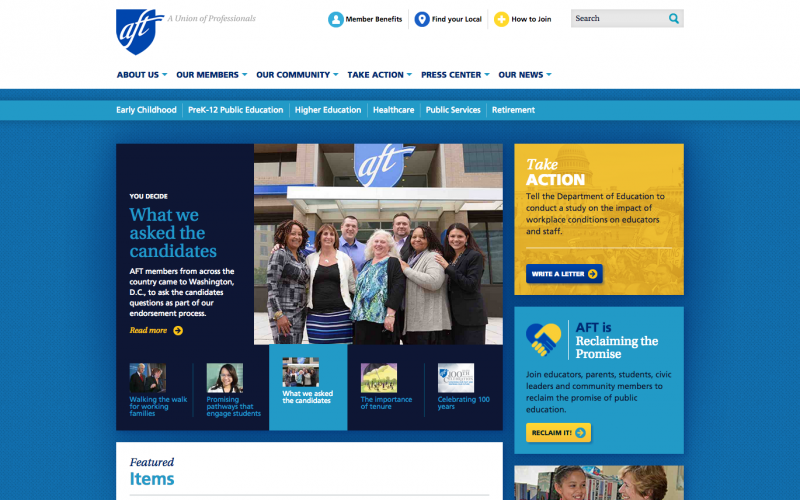 AFT
AFT needed a site that would better engage and mobilize their members to take action on issues they care about. We built them beautiful new site with complex functionality and simple administration.
Details about AFT »
AFT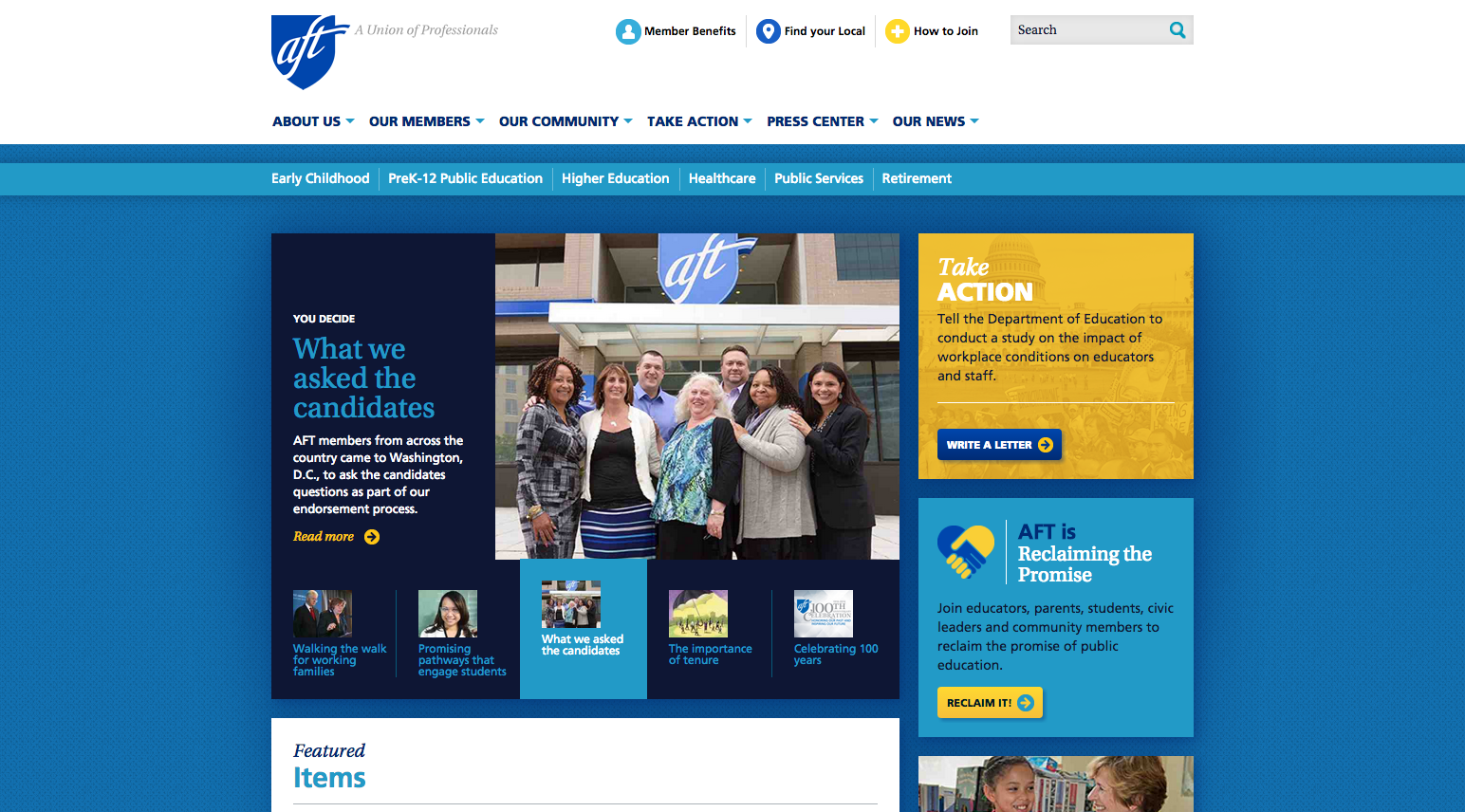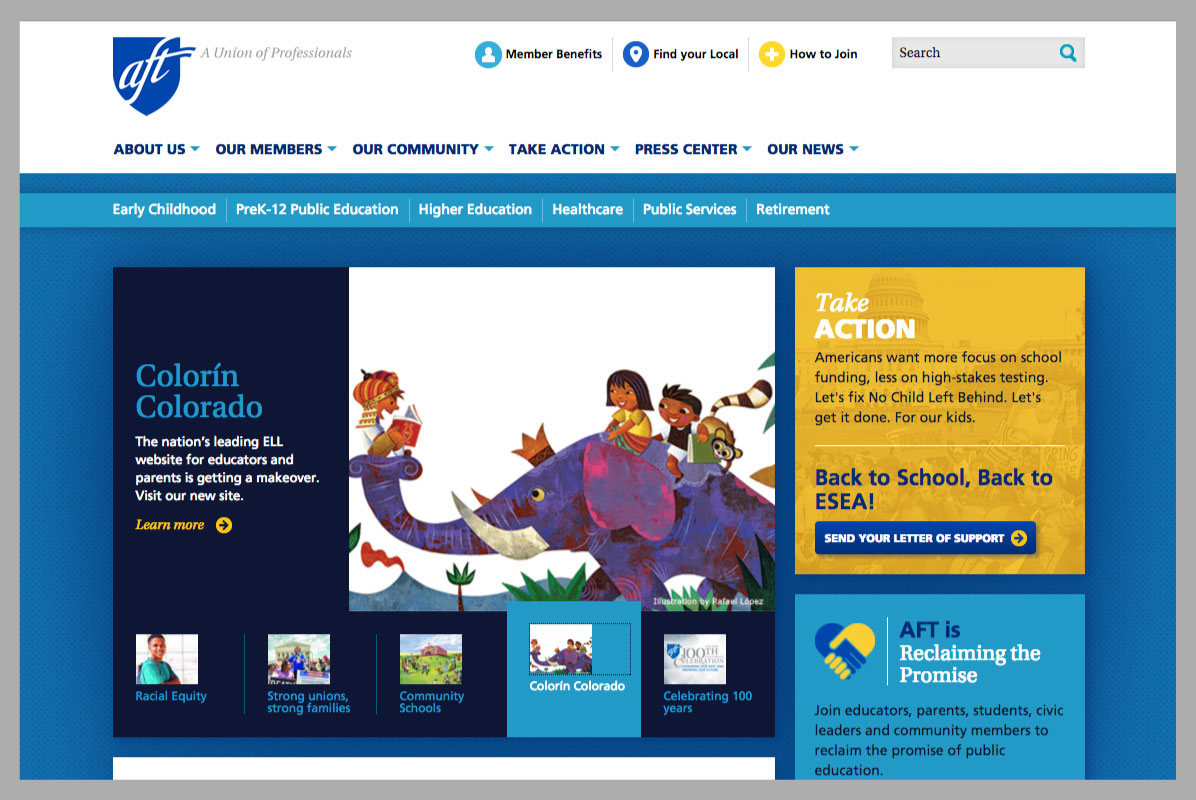 AFT came to us looking for a site that would better reflect their personality and commitment to education and better engage and mobilize their members to take action on issues they care about. We lead them through an extensive discovery and planning process to surface their messaging, design direction, high level goals, and granular, technical objectives, then built their beautiful new site with complex functionality and simple administration.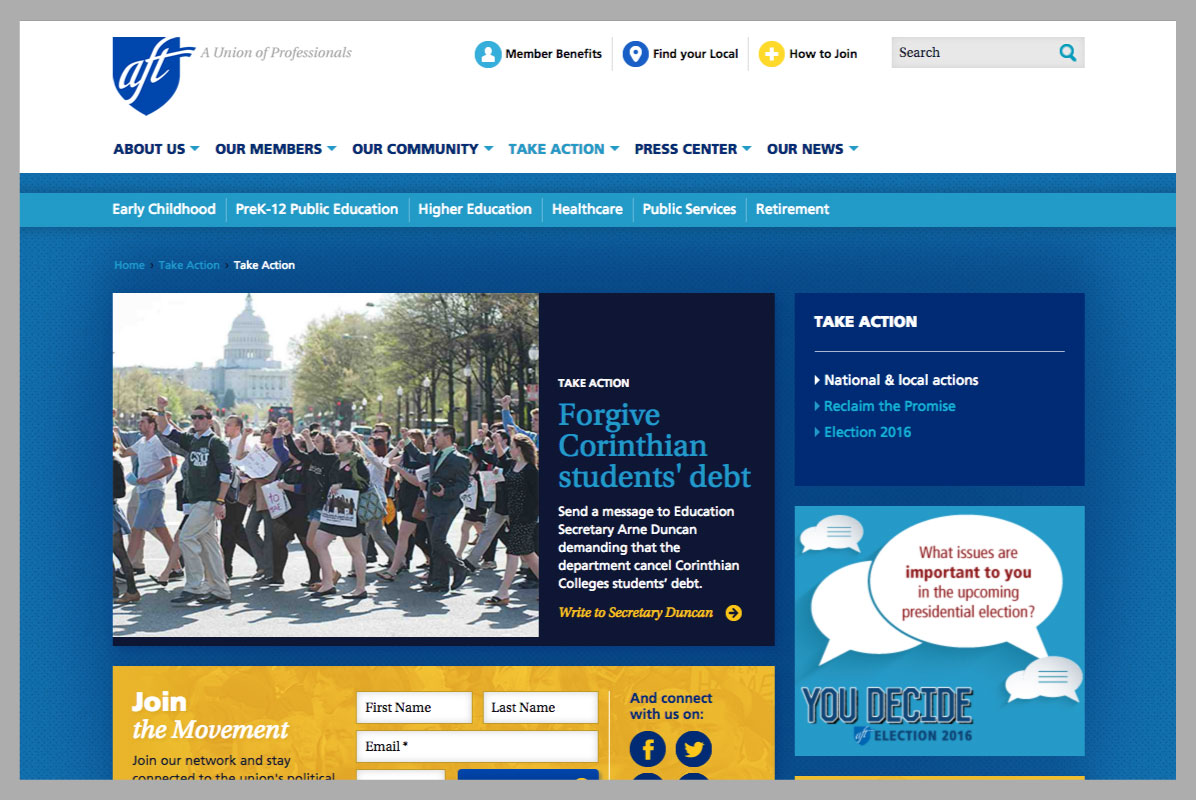 Their new site features improved versions of the most popular parts of their old site, like a better resource center on member benefits, a better search to find locals, and a refined system for sharing articles from their publications.
We also added new functionality, like more social media integration, more dynamic content, better content deployment and moderation workflows, and news and RSS feeds. We also implemented a cleaner homepage and more prominent images, and we integrated Salsa for their newsletter and campaign pages.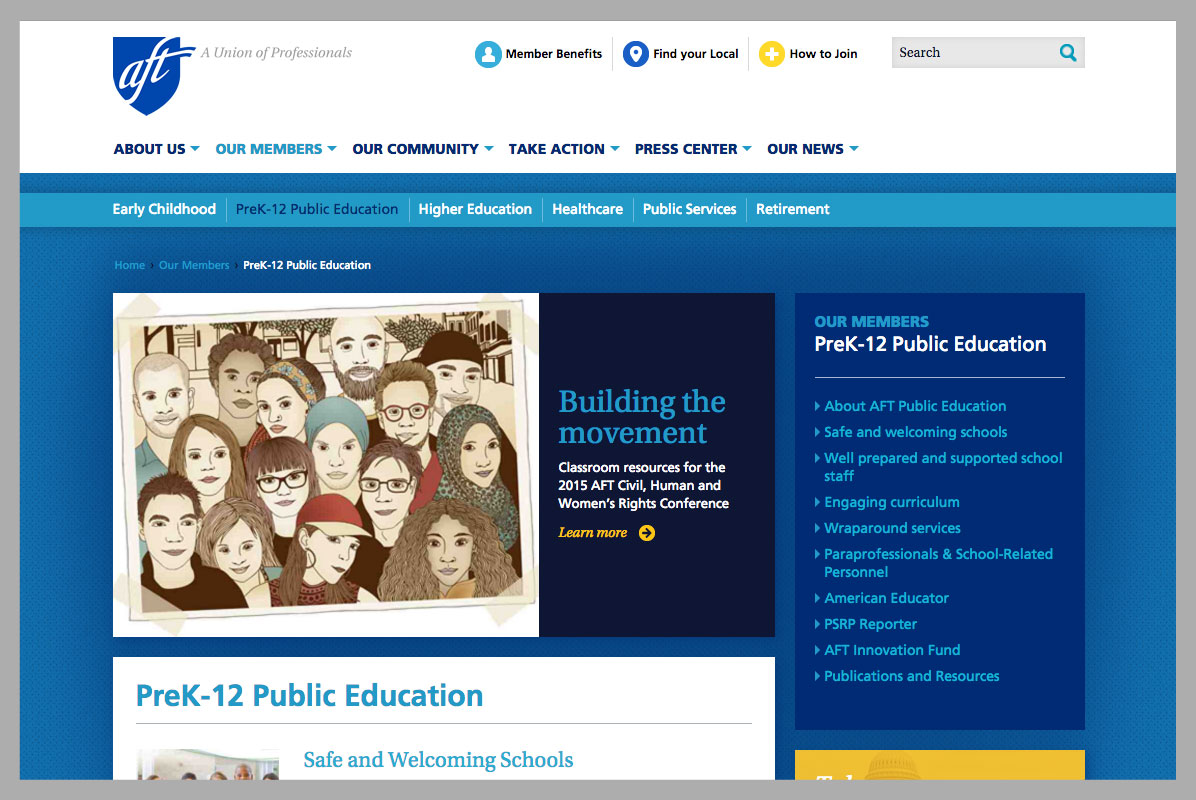 The new AFT.org reflects their diverse membership and solutions-oriented focus, improving the best of their old site and adding much needed new design and features.
×
AFT Mobile Toolkit
We created a mobile app to help the AFT collect information about its members on the go.
Details about AFT Mobile Toolkit »
AFT Mobile Toolkit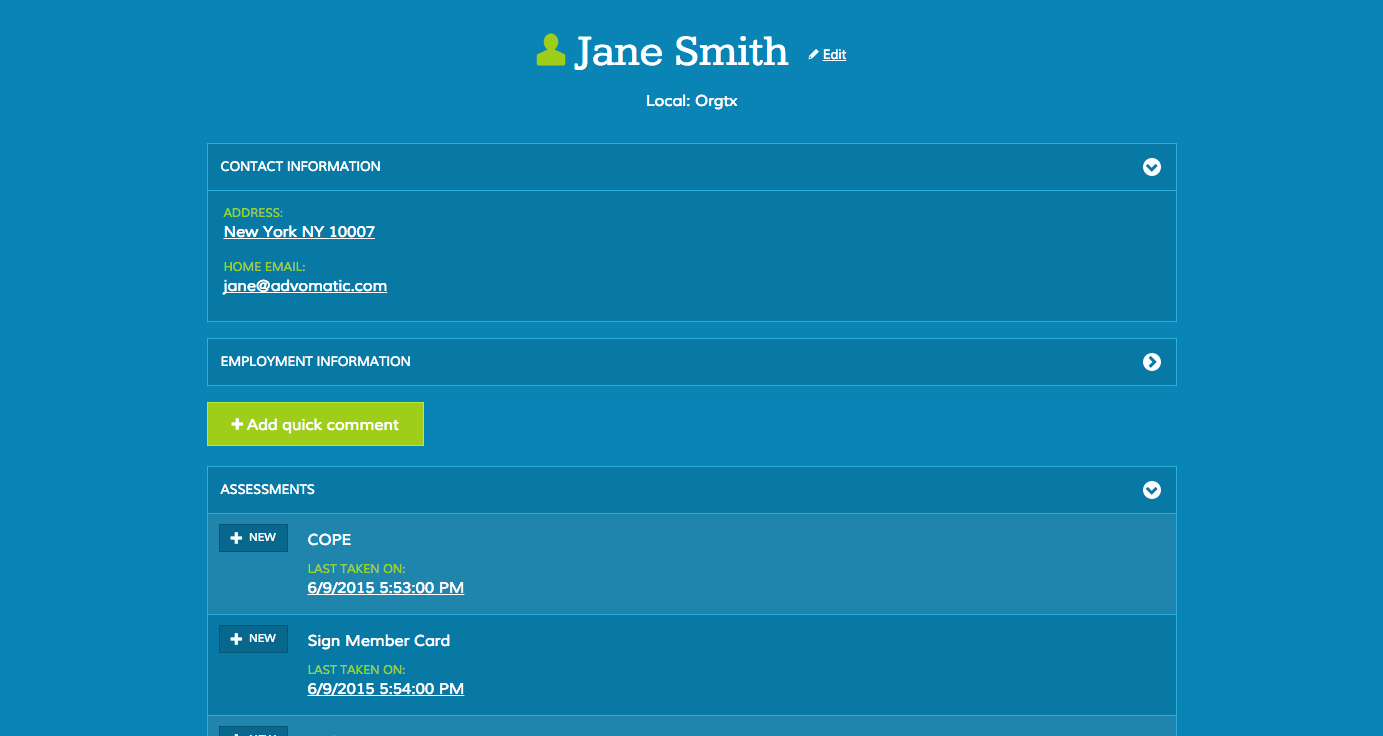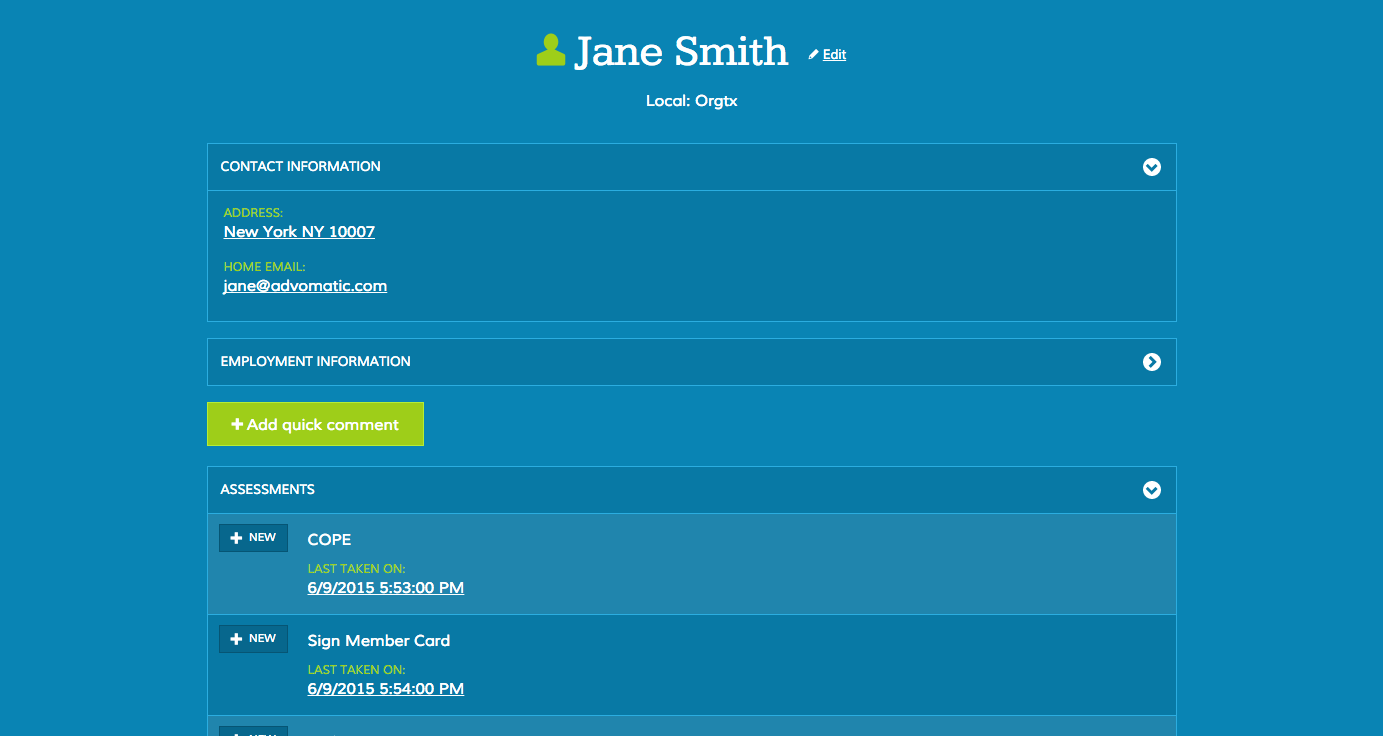 AFT union organizers have conversations and conduct surveys in the field to gauge engagement and needs in the union as a whole and in specific initiatives. Historically, they had been collecting this information in the field, then entering it on a desktop computer once they got back to the office.
They came to us to simplify this process, wanting to collect the right kind of information, in real time. We created a mobile-optimized web app that allows them to view and submit information directly from the field.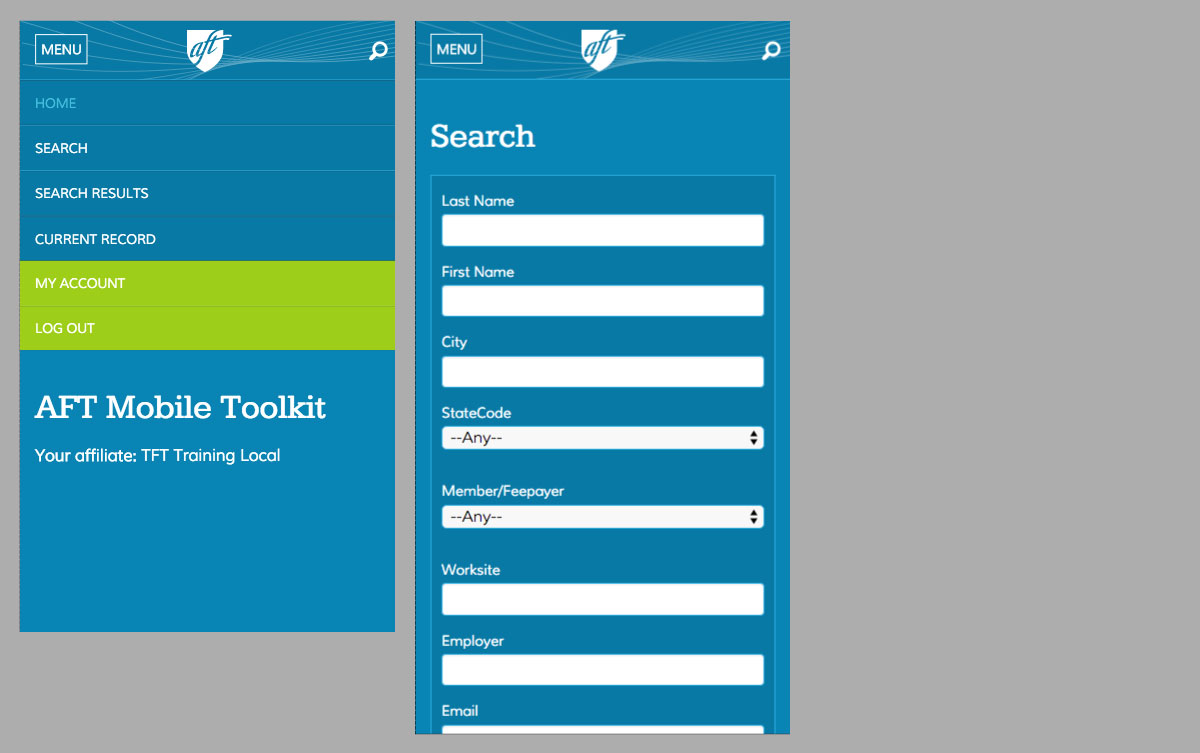 Some highlights:
Since the app is almost entirely used on mobile, speed was a huge factor. We trimmed the fat on all levels of the app, ensuring it would load quickly even over slow connections.
We built the app to be extensible, so whenever necessary, they can adjust what information the app displays, make edits, and send it back to homebase.
We designed a simple, clean user interface for easy in-the-field usage even on small phones.
We co-designed a reusable API that provides the tools necessary for communicating with their databases. This API can be used not only by the Mobile Toolkit, but also by any other future projects that need a simple path of communication.
×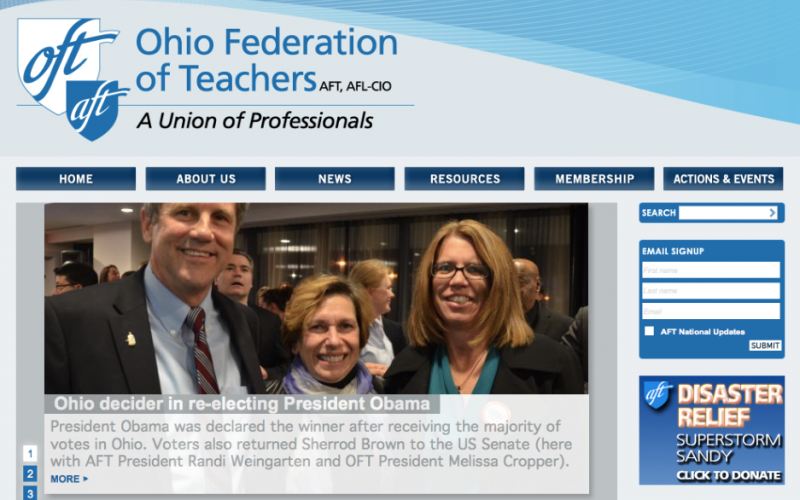 AFT Stateweb
The American Federation of Teachers, representing 1.5 million members in more than 3,000 local affiliates nationwide, came to Advomatic when it was time to move Stateweb to Drupal for a more powerful and flexible platform.
Details about AFT Stateweb »
AFT Stateweb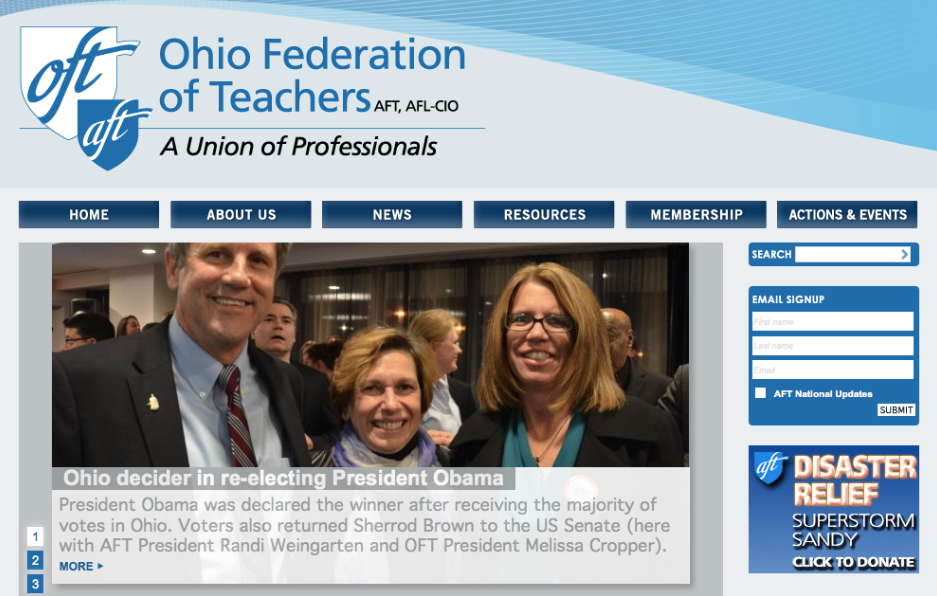 REQUIREMENTS DELIVERED:
Affiliates can spin-off their own local sites and select a visual design from a set of six pre-defined templates customizable with their logo
Integrate with online tools like the Salsa CRM, Flickr, Twitter and Facebook
Customizable content syndication from AFT's national and state-level staff
Multiple points of integration with the AFT's staff and member databases are required for user authentication, displaying members-only content and contact information
Migrated over 877 individual websites from the old Stateweb platform to the new one, including over 40,000 content items
New templates provide a more modern look and more flexible design options
Content publishing tools are improved including enhanced image handling
Daily website management tasks are streamlined to save staff time
Authentication via membership database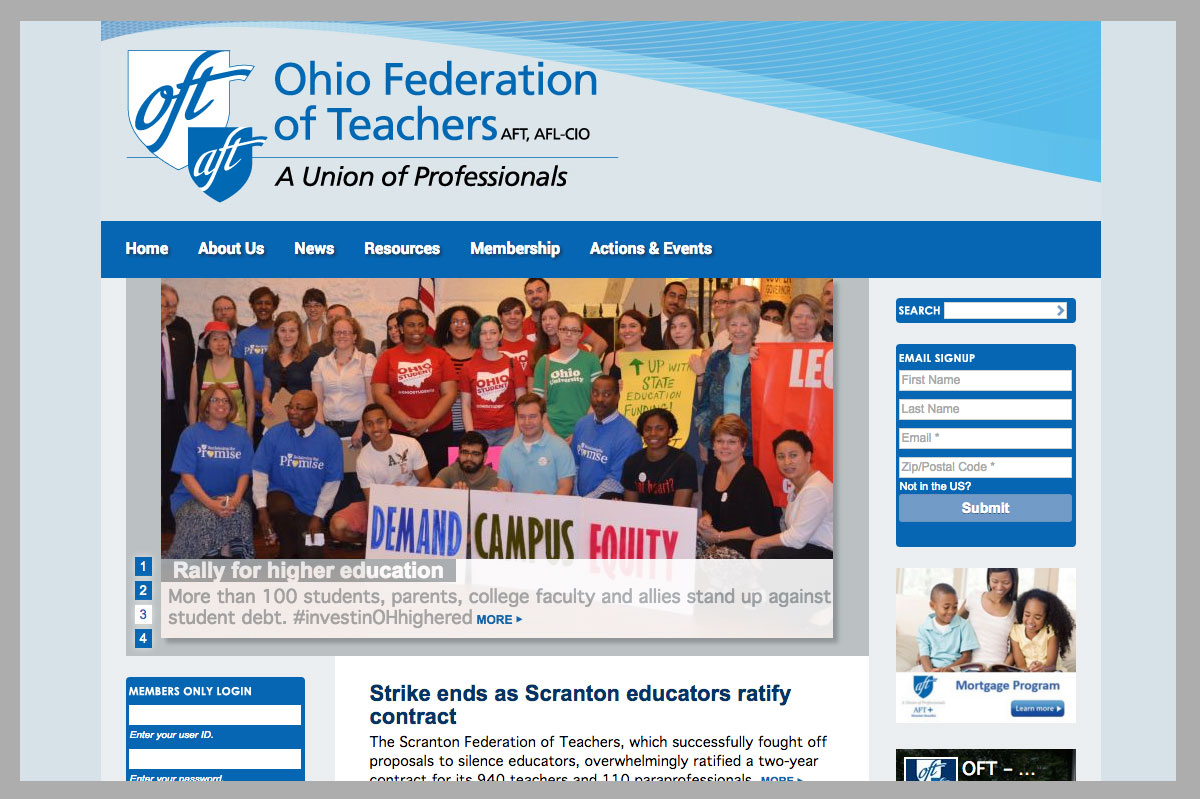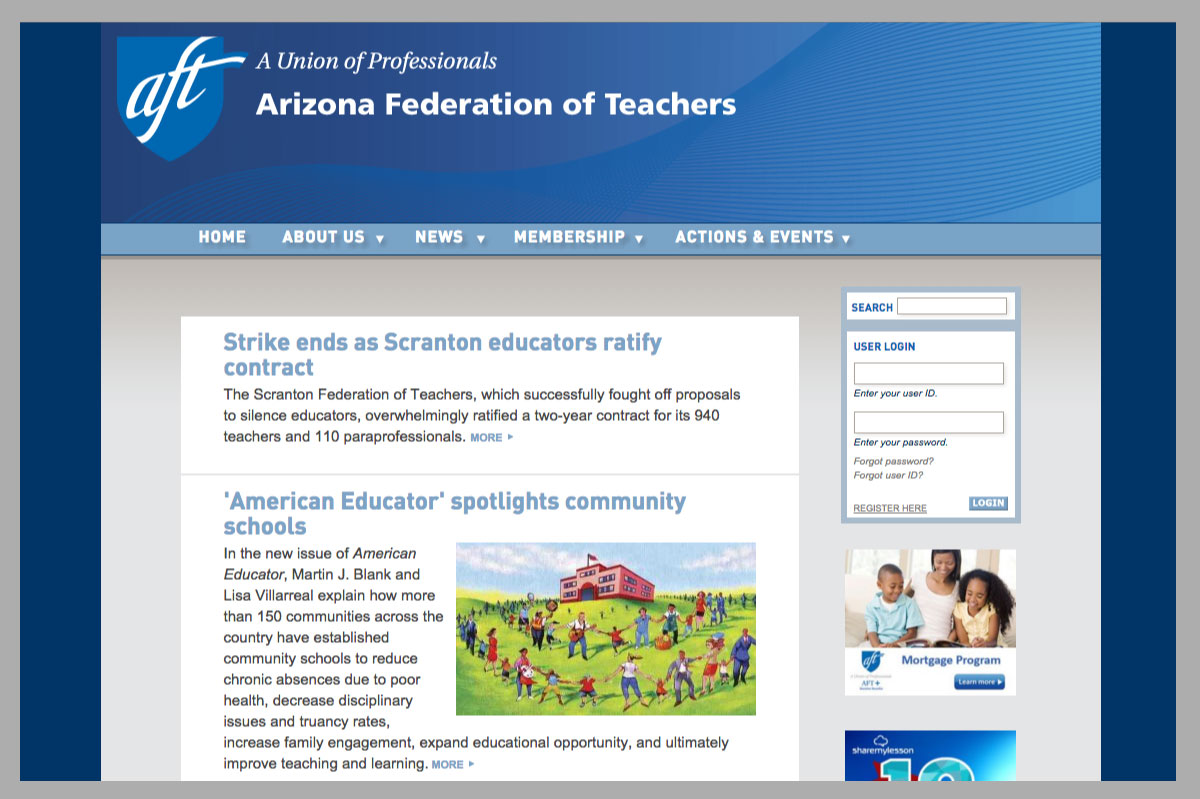 ×